Best of 2020: 5 Best Hindi Films Which Standout in this Pandemic Year
---
Published On: 30 December 2020 | Bollywood | By: Saurabh S Nair
---
This was hands down the weirdest year where everyone was stuck in their house for half of the year and few films we enjoyed in our tv screens, laptop and mobiles rather going to theatres.
Cinemas across the country shut down by mid-March because of the coronavirus pandemic. Streaming services took over. Many films which were planned to release on theatres were released on OTT. Some worked and some didn't. here's our list of best 5 hindi films which we considered as the standout of this year.
5) Thappad
Thappad was more than a guy slapping his wife. It spoke about the gender hierarchy and the role of a woman who is not just there to serve a man. The film also explores the issues of other women rather than the protagonist Amrita Sabharwal (Taapsee Pannu). Amrita Sabharwal (Taapsee Pannu) is happily married to Vikram Sabharwal (Pavail Gulati), an executive who is angling for a promotion at his firm. During a party at their house meant to celebrate his success, Vikram finds out that he's been passed over for the promotion, and gets into an argument. When Amrita tries to intervene, Vikram slaps her in front of everyone. Stunned, Amrita starts to reassess her life, as family and friends counsel her with differing advice. Although the movie is filled with solid performances, it's the small moments between characters that stay with you: A domestic worker wondering that even her employer can face domestic abuse; Amrita's parents' discussion on the ambitions that Amrita's mother had to give up; the quiet dignity with which family friend Shivani Fonseca (Dia Mirza) says that she won't lie, especially in front of her teenage daughter. Thappad is another feather on Anubhav Sinha's (Article 15, Mulk) cap.
4) AK vs AK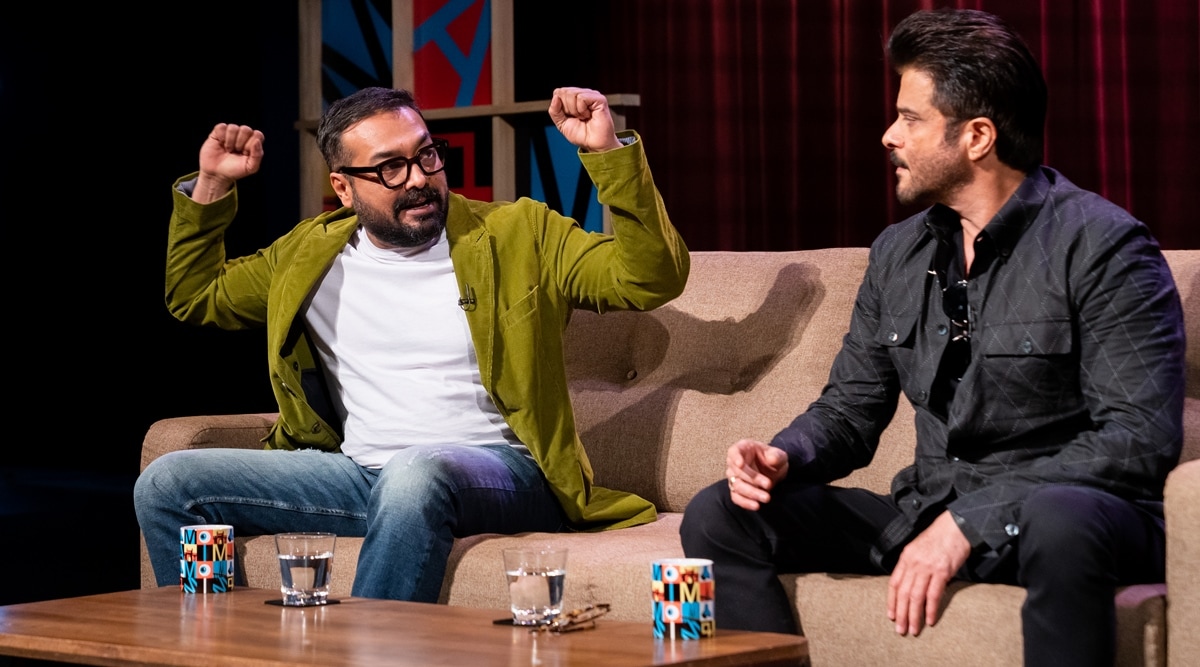 AK vs AK is this year. The film is unique and out of the box, Hindi film released this year. The meta-comedy has never been explored much in Indian cinema, and being more than a mockumentary the film is a social commentary about celebrity culture. The film is a tiff between a filmmaker and a seasoned actor. The film starter Anil Kapoor and Anurag Kashyap. The Netflix original film pits Kapoor against Kashyap and documentary against fiction. We see Kapoor as we never have before, are reminded of Kashyap's acting skills, and witness an almost-persuasive masquerade. The film is spectacularly shot and directed. Vikramaditya Motwane always pushed his boundary to create something out-of-the-box.
3) Kaamyaab
Kaamyaab is an ode to all the supporting actors of Hindi cinema who never got their due. Sudheer lives in a modest apartment, alienated from his daughter, his glory days long forgotten. During an interview about veteran actors, Sudheer realizes that his name has appeared in 499 films. Suddenly he's invigorated with a new mission: Act in one last role that will give him the unique distinction of starring in 500 films. Veteran character actor Mishra is brilliant as Sudheer and is ably assisted in this indie film by many talented supporting actors. Sudhir Mishra is outstanding, the frustration and angst to be in the limelight has been showcased brilliantly. Hardik Mehta the director of the film should be a thing of Hindi cinema.the next big thing.
2) Welcome Home
The film is India's answer to Don't Breathe. Pushkar Mahabal's heart-wrenching thriller Welcome Home was one of 2020's biggest surprises. The SonyLiv film stars Kashmira Irani and Swarda Thigale as census enumerators who knock on a door behind which lies a house of horrors. The unblinking and unrelenting narrative features compelling performances by the increasingly desperate women and effective cinematography by Saee Bhope that brings out the darkness, literal and metaphorical.
1) Ludo
Ludo is out and out Anurag Basu film. The world this guy creates in his films are impeccable. The cast of the film is treated to watch the start from Pankaj Tripathi to Abhishek Bachchan. The film comes under the multi-layer narrative film and the title suits the film because every character moves simultaneously with the narrative just like the game. "Ludo is life, life is Ludo." Usually unique film get good critical response but interest ngly the audience of OTT platform loved the film more than the critics.
Meet the author
A 27 year young writer, graduated in Journalism. A Cinephile who just wants to talk Cinema, walk Cinema and eat Cinema. And obviously write about it.