4 years of 'Masaan', A film which shows real humans and their real emotions.
---
Published On: 24 July 2019 | Bollywood | By: Saurabh S Nair
---
Its been 4 years of Neeraj Ghaywan's beautiful piece of work 'Masaan' which also gifted us a promising actor Vicky Kaushal.
Every year Bollywood produces an ample number of films but there are only a few films which stay in our mind for years. In recent years, Bollywood is notorious for making films which are made only to please audience through its star cast, remakes, and remixed songs. Finally, a film is judged with its box-office numbers. Filmmakers and producers try to please the audience with all sorts of gimmicks, but there is some young talent who doesn't want to do this and tries to tell the story unapologetically induced with Honesty. And 'Masaan' released in 2015 directed by Neeraj Ghaywan and written by Varun Gover was such a gem of a film.
'Masaan' brilliantly showcases the real emotions of humans which have so many vulnerabilities which we go through in our real life.
---
Also Read: Actor Rahul Bose charged Rs 448 for two bananas at a five-star hotel, Twitterati's makes fun of it.
---
The film takes place in Varanasi, shows two stories about Devi and Deepak.
Devi Pathak (Richa Chadda) is caught having pre-marital sex with a guy and the police try to blackmail Devi's father and extort money from him. But before that, the boyfriend of Devi committed suicide to avoid the stigma. Devi tries to recover from this trauma but this society tortures her more for her act.
---
Also Read: 'Gang Leader' Movie Teaser: Nani leads a bunch of ladies ganged up for revenge.
---
Devi's father, Pathak Ji (powerhouse talent Sanjay Mishra) is continuously blackmailed and tries to collect money to cover the action and for that, he puts a little boy's life at risk and later realizes that how demonic he has become.
The second story talks about a lower-caste young guy Deepak (Vicky Kaushal) whose family works in crematorium ghats who is fallen for Shalu (played by Shweta Tripathi) who is from an upper-caste background. When things were going well a sudden tragic incident happens where Deepak while working in the ghats has to do cremation of his own girlfriend Shalu which will haunt you as an audience.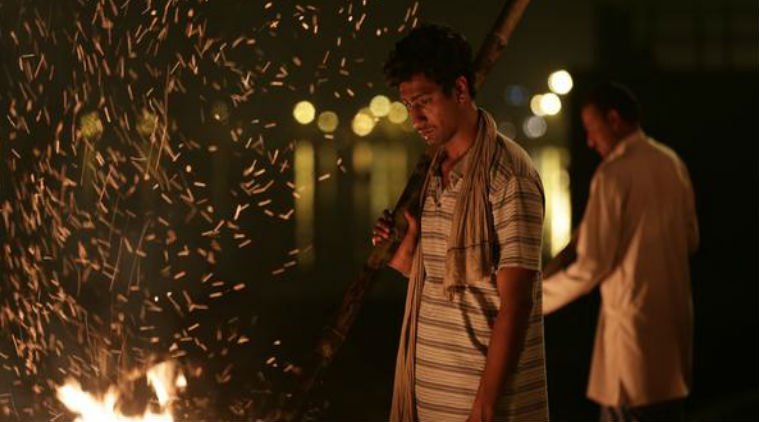 ---
Also Read: Iconic song 'Bole Chudiyan' from K3G crosses 400million+ views on Youtube, KJo posts an emotional tweet.
---
Varun Grover's writing gives this simple story so many different layers and conveys us the complexity of human emotion poetically. His sensitive writing shows us all the different kinds of emotion without shouting out loud.
The film intercuts between different stories and as they progress, we find out that the superficial story is just the topmost layer of the narrative. We meet these characters and almost immediately, we know them.
Masaan is filled with metaphorical scenes. When we are introduced to Deepak we see him working at the crematorium and next wee see lighting a stove in his house, as the director wants to tell us visually that his house his run through this job.
---
Also Read: 'Asthmatic' Priyanka Chopra smokes and netizens can't keep calm.
---
When Devi goes to his boyfriend's house the makers have not shown us what is happening inside the house and conveyed us the scene only through sound.
The most heart-wrenching scene of the film is when Deepak remembers Shalu and breaks down while drinking with his friend will chill your spine. This scene is proof that Vicky Kaushal is here to stay.
Meet the author
A 27 year young writer, graduated in Journalism. A Cinephile who just wants to talk Cinema, walk Cinema and eat Cinema. And obviously write about it.